C.A. Larsen - Explorer, Whaler & Family Man
C.A. Larsen led the first Norwegian expeditions to the Antarctic in the vessel Jason in 1892 – 94. There he discovered new land and the first fossils on the continent, and even made the first ski trip. Explore a life full of adventure, discoveries and dreams through our latest exhibition.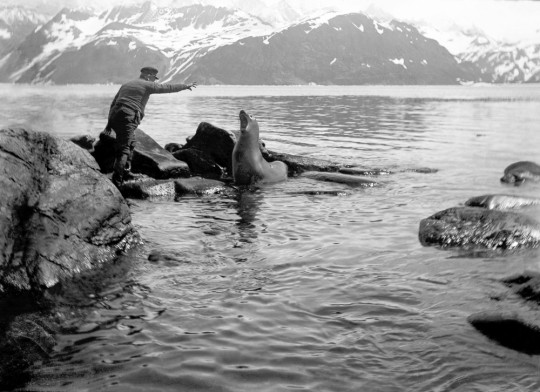 C.A. Larsen in dialogue with an elephant seal
Adfter the Jason expeditions Larsen was captain of the ship Antarctic during the Swedish Antarctic Expedition (1901 – 03). After the ship sank, he led his men through a very difficult wintering and following rescue attempt in an open boat during merciless conditions. Barely out of the ice, he motivated a number of investors to finance the establishment of a whaling station under his leadership in Grytviken, South Georgia.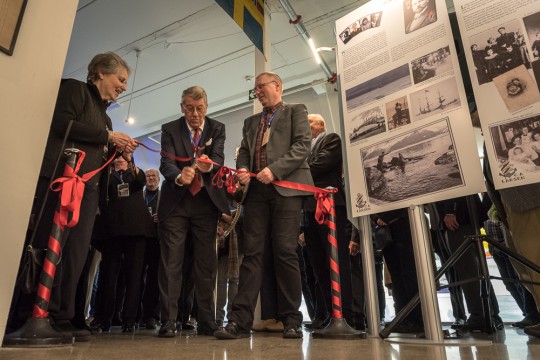 Opening the exhibition: Eva Marie Widmark, Bjørn Tore Larsen and museum director Geir O. Kløver
Towards the end of his life he took the initiative to establish A/S Rosshavet, the company which pioneered Norwegian pelagic whaling in Antarctica. Larsen was also the expedition leader and died on board the factory ship Sir James Clark Ross during the second season in 1924.

Larsen's activities in the Antarctic surpass those of most other polar explorers of the same era, and yet he is mostly unknown, even in Norway.
Join us in being moved by his strength, enthusiasm and ability always to keep spirits up, even as his ship was sinking. Exhibition now open.