On 1 June, the Norwegian Embassy in Canada organised an Amundsen-event in cooperation with the Fram Museum and the Royal Canadian Geographical Society. The meeting was the first event in RCGC's brand new building at 50 Sussex Drive, Ottawa.
The purpose of the meeting was to present Roald Amundsen's personal diary from the Northwest Passage to a Canadian audience. In attendance were the Commissioner of Nunavut, Senators, Members of Parliament, Ambassadors, Canadian Ministry of Foreign Affairs, Fellows of RCGC, and representatives organisations active in Arctic.

After speeches of Mr. John Geiger – CEO of RCGC, HE Anne Kari Ovind – Ambassador of Norway, Mr. Geir O. Kløver – Director of the Fram Museum and HE Nellie Kusugak – Commissioner of Nunavut, the Norwegian Ambassador presented a leather bound copy of the diary to the Commissioner of Nunavut.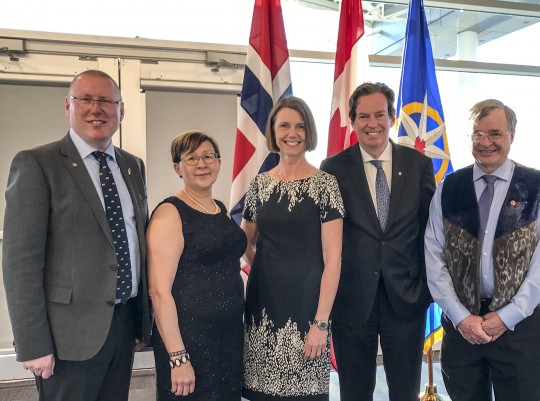 From the left: Geir O. Kløver – Director of the Fram Museum, Hon. Nellie T. Kusugak – Commissioner of Nunavut, HE Anne Kari Ovind – Ambassador of Norway, John Geiger – CEO of RCGC, Hon. Dennis Patterson – Senator of Nunavut.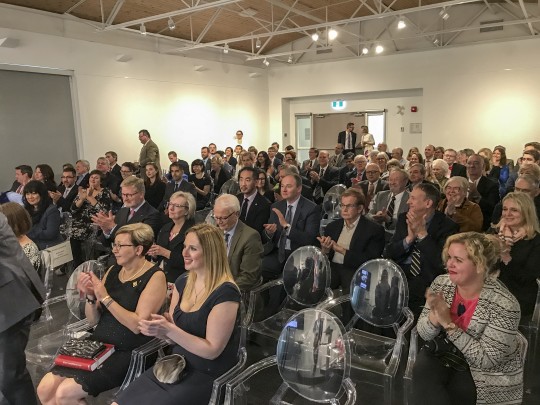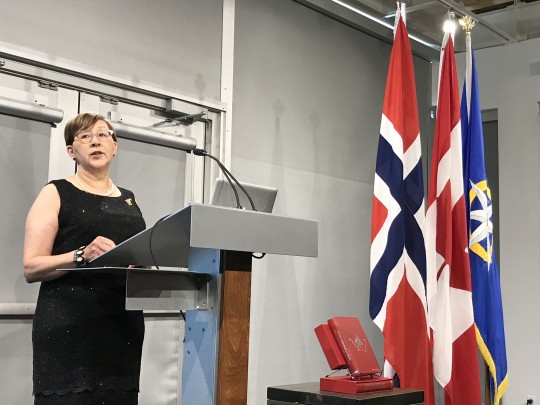 Hon. Nellie T. Kusugak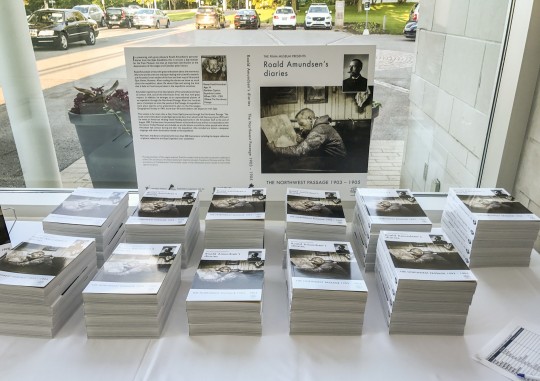 The special edition of Roald Amundsen's diary from the Northwest Passage contains the full text and photos from Gjøa's departure from Kristiania (Oslo) in June 1903 until Gjøa leaves Gjoa Haven in August 1905. The full 2-volume diary from 1900 to 1907 will be published in December 2017. A special limited leather bound edition can be ordered from the Fram Museum.
The speech from Hon. Nellie T. Kusugak – Commissioner of Nunavut
Tunngasugitsi, welcome and thank you for the invitation, Your Excellency Anne Ovind.

I am honoured to be here for this special celebration hosted by the Embassy of Norway and the Royal Canadian Geographic Society, it is an honour and privilege.

We just heard about forerunners, my paternal grandmother was a forerunner.
And about the tail of the caribou parka that he cut off, no wonder he got cold. The tail and the fringes keep the draft out.

Before I go any further I would like to mention an important element of Inuit world view. Pilimmaksarniq: there really are no words for this holistic philosophy. It was just a given in passing on knowledge to the next generation, the teachings of life.
Development of skills through practice, effort and action.
I checked Amundsen's June 1, diary entry, Inuit were still living in igloos. Today that is not possible anymore.

I believe Norwegian polar explorer Roald Amundsen had great respect for this guiding principle of the Inuit.

This presentation of the English version of Roald Amundsen's diaries helps us celebrate an important connection, diplomatic relations between the Kingdom of Norway and Canada – a relationship that is celebrating its 75th anniversary this year.

There continues to be keen interest in all the details of Amundsen's successful navigation of the Northwest Passage in Canada's Arctic.

Amundsen's commitment to following his boyhood dream of following in the footsteps of other polar explorers fueled his determination to find and navigate the Arctic waterway linking the east and west.

His voyage through the Northwest Passage spanned several years, from 1903 to 1906.

Dealing with the challenges of navigation brought Amundsen and his crew to Gjoa Haven, Uqsuqtuuq, means fat fish, there is a lake that is about 3 km from there, where the fat fish are, thus the name for it, on King William Island. They wintered there because Gjoa Haven's harbor was sheltered and provided refuge from massive pack ice and storms at sea.

During his time in Gjoa Haven Amundsen got to know the Inuit of the area, the Netsilik Inuit, very well. The Netsilik Inuit taught him their Arctic survival skills and they were always helpful and good-natured.

Amundsen learned how to use sled dogs for transportation of supplies and he learned how important it was to wear skin clothing to keep warm and dry, and I am sure they also ate their food.

He was amazed at how happy the Netsilik Inuit were and how well they lived in such a harsh environment.

The skills Amundsen learned from the Netsilik Inuit helped him achieve his dreams.
He successfully navigated the Northwest Passage, located the magnetic north pole, and then went on to reach the South Pole, travelling by dog sleds.

His strong and respectful relationship with the Netsilik Inuit helped him bring honour to his country.

I am proud of the kindness and wisdom the Netsilik Inuit showed Amundsen. What he learned from them supported his success and he never forgot that. They had to work together. My father used to say to us, that we are to welcome visitors, and they are our responsibility to make sure they are looked after in every way. The very best way to learn is to completely open to the local and live with them, immersion.
This special edition of his diaries, which focuses on his time in the Canadian Arctic, is a valuable part of our history.

It is wonderful to know that his experiences with the Netsilik Inuit will be shared throughout Canada.

And, anyone with an interest in history will now have the opportunity to learn about Inuit history and culture through the memories of a great polar explorer who showed great respect – Roald Amundsen.

I can't wait to read it and learn more about Inuit, and gain greater knowledge. It's very exciting for me.

Qujannamiimarialuk, thank you so much.