Explorers
Gottwaldt, Birger Lund (1880-1968)
Gottwaldt participated on the airship Norge and was head of the radio service on board.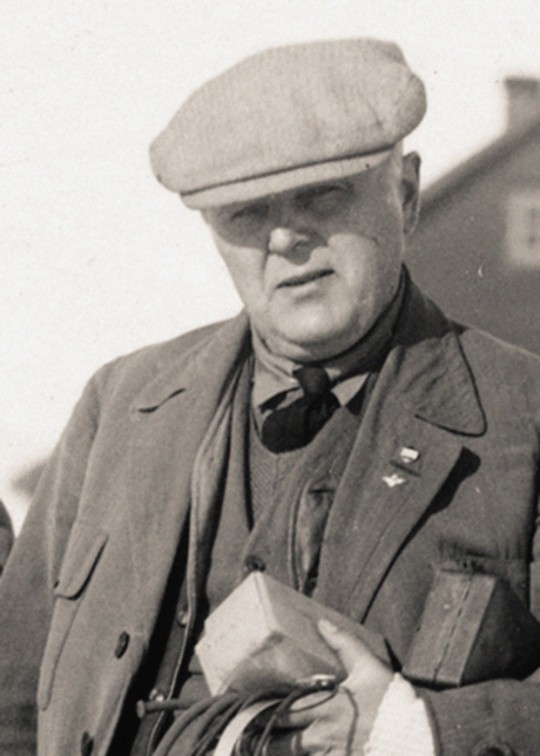 Birger Lund Gottwaldt was born in Kristiania. His parents were bailiff Alfred Hagbarth Nærup and Petra Alvilde Lund, and the surname was changed to Gottwaldt in 1901. Gottwaldt grew up in Kristiania (Oslo) and went to sea at 15 years of age. In autumn 1898 he started at the Naval School. He became 2nd lieutenant in 1901 and 1st lieutenant in 1904.
He had several study terms abroad. In 1904–06 he was in Berlin, at the Technische Hochschule, Charlottenburg. Here he studied electronics, telegraphy-telephony, signalling and radio technique. In 1906 he followed studies in shipbuilding and artillery at Armstrong Whitworth & Co., Newcastle. Later there were study trips to Germany and the Netherlands. He married Ruth Bruu in 1906. In 1912 he was promoted to captain. In 1914 he was second-in-command of the torpedo division ship Valkyrien.
From 1907 Gottwaldt was attached to the navy's mine service's radio division, first as assistant and later as division leader, a position he had until 1918. He had then been delegate to the international radio-telegraphy conference in London in 1912. In 1920–24 he was à la suite (connected to, but without official position) in the navy.
Gottwaldt helped to start the company Norsk Marconikompani in Oslo in 1918 and he was technical director there in 1919–25. The company was an advocate for introducing wireless telephony to Norway, particularly with regard to the merchant fleet, and Gottwaldt was a co-arranger of the first public demonstration of the new medium in Norway (a transmission between Kristiania and Horten) 12 February 1920. He also published a handbook for radio amateurs and recognised early the possibilities that lay in the new technology. On 25 January 1923 he participated in the Norsk Radioklub's and Telegrafverket's first demonstration of real broadcasting in Norway.
In 1926 he participated as radio operator on the Amundsen-Ellsworth-Nobile Transpolar Flight with the airship Norge. After this he had an active period as officer, amongst other positions as second-in-command on the armed ships Norge and Tordenskiold in 1927.
Gottwaldt was captain on the commando ship Heimdal 1929–30. Thereafter he was head of the Oscarsborg torpedo and mine defence 1932–36, captain on the patrol ship Fridtjof Nansen 1937, the mine layer Olav Tryggvason 1937–38, and on the armoured ship Norge during recruit training. As captain on the Fridtjof Nansen he served in the inspection division in north Norway and the fishery inspection by Iceland. Gottwaldt was promoted to naval captain in 1935 and commander 1938. 1938–40 he was head of the exercise division, which consisted of the mine layer Olav Tryggvason and the destroyer Sleipner. He became head of the commanding admiral's adjutant branch in 1939. That same year he became head of the navy's fleet exercises.
After the German attack on Norway 9 April 1940 Gottwaldt was in command of the Romsdalsfjord naval defence force. He served there under difficult conditions from 13 April. From 10 May 1940 he served in Tromsø and in the Defence High Command. He left the navy on 30 August 1945.
Gottwaldt was one of Norway's best-known and all-round naval officers. Both within radio telephony and polar flying he is reckoned to be one of the pioneers. Naval officers had great respect for him, both as a professional naval man and radio expert and one who knew about polar conditions. He had a strong sense of humour and had many good stories he could tell with a twinkle in the eye. He was also a clever artist and could draw excellent cartoons, which could have been a good job in the humour magazines today.
For his radio-technical work both in and outside the navy he was awarded the King's service medal in gold in 1926 and the same year he became a knight of St Olav's Order for his contribution to the Norge flight. In addition he had the Participant medal and several foreign awards.
Taken from:
Odd Engdal: B L Gottwaldt. (2011-11-03) I Store norske leksikon. Hentet fra http://snl.no/.nbl_biografi/B_L_Gottwaldt/utdypning