Explorers
Nilsen, Thorvald (1881-1940)
Nilsen was the Fram's captain on Roald Amundsen's expedition to the Antarctic. He was on board 1910-14. While Amundsen and his men conquered the South Pole, the Fram was on a scientific voyage in the South Atlantic.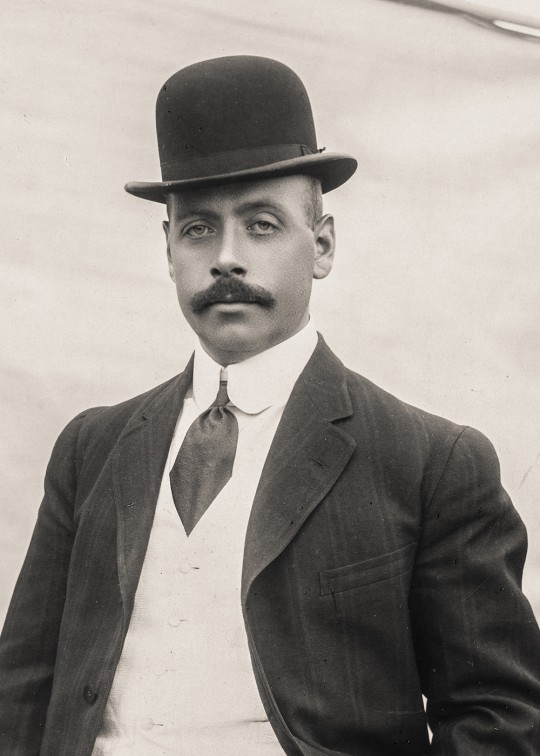 Thorvald Nilsen was born 6 August 1881 in Kristiansand. He took his mate's exam in 1900 before starting at the Naval Training School at Karljohansvern in Horten. He completed this in 1903 as number 10 in his group of 20. He was appointed first lieutenant in the Navy and gained his captain's certificate in 1906. He then joined the merchant fleet as mate and captain on routes to South America, amongst other ships on the s/s Nicaragua. Hearing of Amundsen's plans for a North Pole expedition with the Fram, he applied and after Ole Engelstad died in connection with Amundsen's experiment in Horten with man-carrying kites, Nilsen got the position of captain. He was naturally told early that they would be going south to the Antarctic instead.
The Fram left Nilsen's home town Kristiansand on 9 August 1910. The Bay of Whales in Antarctica was reached on 13 January 1911 and the wintering party landed. Nilsen then sailed the Fram further south in the bay to 78°41'S and the Fram thus became the ship which had been both furthest north and furthest south. They left Antarctica on 14 February for Buenos Aires and oceanographic work in the southern Atlantic.
Nilsen discovered in Buenos Aires that nothing had been arranged for this part of the expedition, but the financial problems were solved with help from an expatriate Norwegian in Buenos Aires, Don Pedro Christophersen. With the young Russian oceanographer Alexander Kutsjin as scientific leader, they carried out a first-ever set of oceanographic observations across the southern Atlantic. The results included water sampling, temperature measurements, plankton sampling, and more.
Amundsen's group was fetched in January 1912 and the Fram reached Hobart, Tasmania, 7 March and Buenos Aires 23 May. The Fram had now sailed 54 400 n.m., twice round the world and circumnavigated Antarctica. Amundsen was now to make for the North Pole, and Nilsen was left to refit the Fram in Buenos Aires. The work was delayed and Nilsen and most of the men travelled back to Norway, arriving in December 1912.
In summer 1913 the Fram's crew travelled back to Buenos Aires as the plan was now for the Fram to be the first ship through the new Panama Canal. Nilsen travelled direct to Colón where he took over the command again on 3 October. Again there was a delay and the Fram lay there for two months waiting for the Canal to be finished. When this did not happen, a new plan was decided to tow the Fram round South America. On 25 March 1914 they had got no further than Montevideo, where Andreas Beck died. The conditions on board were terrible after the long stay in warm waters. Both the ship and the food supplies were seriously worm-eaten and there was a plague of rats on board. They were therefore ordered to return direct to Norway, where the Fram arrived at Horten on 17 July 1914.
Nilsen returned to the navy during the war 1914-18 and was captain on a torpedo boat. Afterwards he was appointed adjutant at the naval district command in Kristiansand. In May 1915 he was best man at Kristian Prestrud's wedding and on 14 September 1918 in Nordstrand church he married Frida Lem (1888-1948) fra Selje. In 1920 he was appointed captain in the Navy, but he applied to resign and instead he took an exam as average adjuster (working with marine insurance) in Kristiania (Oslo). Nilsen and his wife moved to Buenos Aires for good in 1920, after Nilsen had been offered a job at the Norwegian firm John M. Bugge Assuranse- og Dispachørforretning (assurance and average adjuster firm) as insurance agent for Nordic companies. He and Bugge had talked this over in 1915, and Nilsen took over the firm after Bugge's death.
Thorvald Nilsen became a popular member of the Scandinavian colony in Buenos Aires and he was chairman of the La Plata Society 1925–27. For his efforts for the antarctic expedition he was appointed in 1913 knight 1st class of St Olav's Order, and he became knight of the French Legion of Honour. He was fond of Norway and visited the country often before he died in Buenos Aires 19 April 1940. His urn was returned to Norway.
Sources:
Susan Barr: Biography of Thorvald Nilsen in Norsk biografisk leksikon
Letter from Nilsen to Prestrud 8.11.1927
Thorvald Nilsen's surviving papers