Explorers
Hanssen, Helmer Julius (1870-1956)
Hanssen participated on the first three of Roald Amundsen's polar expeditions and was part of the five-man group that reached the South Pole as the first on 14 December 1911.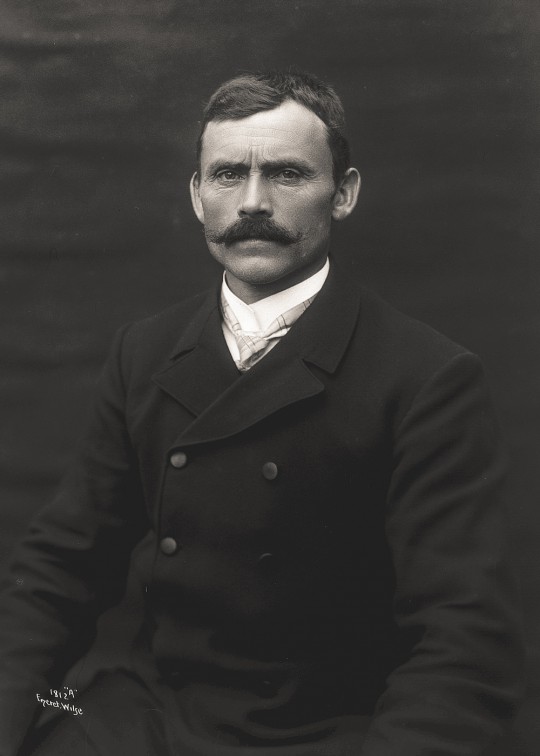 Helmer Julius Hanssen (originally written Hansen) was born 24 September 1870 in Bjørnskinn (now Andøy), Vesterålen, Nordland county. His father, Hans Andreas Jacobsen (1832–1914), was a farmer and fisherman and from 11 years of age Helmer combined farm work with fishing in Lofoten and Finnmark, north Norway, with his father. In the years 1894–97 he hunted small whales and seals in the arctic seas. In 1897 he married Kristine Augusta Josefine Berg (1876–1963) and the same year he gained his mate's certificate in Kristiansund. He then participated as mate on Henry J. Pearson's British expedition to Novaya Zemlya with the s/s Laura. While Laura was in Sandefjord prior to start, Hanssen met Roald Amundsen, who was preparing for the Belgian expedition with the Belgicato Antarctica. The following year Hanssen was the skipper of the sealer Elidabefore he sailed for five years on coastal and overseas routes, amongst others for the Vesterålen Steamship Company (Vesteraalens Dampskibsselskab). In 1915 he gained his skipper certificate.
Helmer Hanssen was engaged as mate on Roald Amundsen's expedition through the Northwest Passage with Gjøa in 1903–06, after recommendation from Amundsen's friend Fritz Zapffe in Tromsø. This started an 18-year long association with Amundsen. Hanssen and his wife now had a baby son. While Hanssen was away on the Gjøa expedition, he learned dog sledging from the Inuit, which was to be of great use on the South Pole expedition.
After Gjøa's return home, Hanssen worked for the Customs in Tromsø, but he was given leave to participate as ice pilot on Amundsen's next expedition in 1910–12. He now had three small children at home. The expedition was officially to go north, but went to the Antarctic instead. Hanssen was in the group which reached the South Pole on 14 December 1911 and his sledge carried the principal compass.
After the expedition left the Antarctic, Fram was sailed to Hobart and on to Buenos Aires, where most of the crew left for Norway. Hanssen returned to his Customs job, but went back to South America in 1913-14 when the Fram was sailed to Colón and then back to Buenos Aires, before he again went back to his Customs job in Tromsø.
In recognition of his faithfulness and good work on the previous expeditions, he was appointed by Amundsen as captain on the Maud expedition through the Northeast Passage in 1918–20. During this, Hanssen carried out a c.1500 km sledging trip from the Maud, which was stuck in the ice near to Ajon Island, to Anadyr by the Bering Strait in order to send telegrams for Amundsen. The return journey of c. 4000 km took 6½ months. This was probably a record for sledging journeys at that time; the South Pole trip was 3000 km and took 99 days.
The relationship between Hanssen and Amundsen deteriorated during the frustrating voyage with the Maud, and Hanssen was signed off together with Rønne and Sundbeck when the Maud reached Nome in Alaska. Amundsen wrote to his brother Leon that he had been dissatisfied with Hanssen for some time because the position of captain had gone to his head and he had become quite insufferable. This can also be seen in the diaries of others on board. After the dismissal in Nome, Hanssen had to work for a few weeks with industrial gold-digging to earn money for a ticket home. After a month the three were given money for the return from Norwegian authorities. Because of his connection with Amundsen, Hanssen is claimed as a hero in Tromsø and it caused some consternation there when new archival studies in 1995 showed that he had been dismissed in disgrace by Amundsen in the middle of the Maud expedition. Rumour says, however, that Amundsen may have visited Hanssen at his home in Tromsø when Amundsen was there on his last journey in 1928.
Helmer Hanssen was now finished with Amundsen, but not with polar expeditions. He returned once more to the Customs job in 1920, but participated as dog-sledge driver on the Oxford University Spitsbergen Expedition 1924. Together with the leader, George Binney, he crossed Nordaustlandet by dog sledge from east to west. In 1926 he assisted the German film company UFA on their expedition with the Våland to Svalbard and Northeast Greenland. On this trip he met the American polar hero Richard Byrd, but rejected his offer to join a new antarctic expedition. In 1928 he left the Customs for a job as ship surveyor at the ship control office in Tromsø where he worked until he retired in 1940.
Helmer Hanssen was appointed knight of the Order of St Olav in 1906 for his participation on the Gjøa expedition, and in 1912 he received the South Pole Medal. He was chairman of the Tromsø Skipper Society for six years. In 1936 he published his biography Voyages of a Modern Viking. He died in Tromsø in 1956 and the state paid for his funeral from Tromsø cathedral. A monument to 'Polar Explorer Helmer Hanssen 1870-1956' stands behind the Bjørnskinn church in Andøy, Vesterålen. In 2011 the University of Tromsø rechristened the marine-research ship Jan Mayen to Helmer Hanssen.
Sources:
Susan Barr: Helmer Hanssen's biography in Norsk biografisk leksikon and Store Norske leksikon.
http://www.polarhistorie.no (June 2011).