Explorers
Ramm, Fredrik (1892-1943)
Ramm participated as a journalist on the airship Norge in 1926.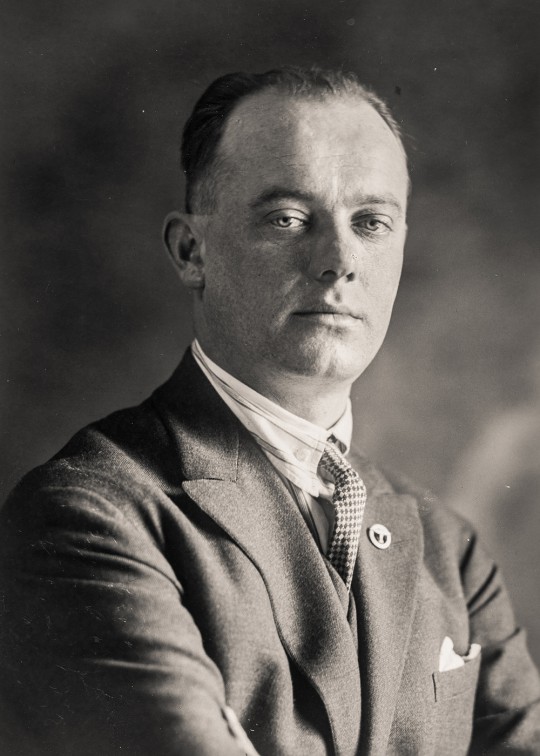 Fredrik Ramm was born in Kristiania (Oslo). He became a journalist in the newspaper Tidens Tegn and went to Svalbard on the Ægir in 1924 to cover Roald Amundsen's attempt to fly with two Dornier Wal aircraft to the North Pole. The expedition was postponed until 1925, but Ramm could still report from Svalbard.
In 1926 he participated on the Amundsen-Ellsworth-Nobile Transpolar flight and sat on the way writing reports on his typewriter. The reports were sent by telegraphy from the airship. After the expedition he wrote a chapter in Amundsen's book of the flight.
In 1928 he became news editor in the newspaper Morgenbladet. He participated in the Oxford Group, a world-wide Christian movement. In September 1941 he and the Morgenbladet editor Olaf Gjerløw were sentenced by the Germans to a so-called Zuchthaus for life (later changed to ten years). He was sent to Hamburg where he got ill, and was allowed to return home, but he died on the way back.
He is especially known for the article "En skitten strøm flyter over landet" (A dirty current flows over the country) (October 28, 1931), an attack on the radical intellectual writers such as Sigurd Hoel.