Explorers
Hansen, Godfred (1876-1937)
Hansen was a Danish naval officer and second-in-command of the Gjøa expedition through the Northwest Passage in 1903-06.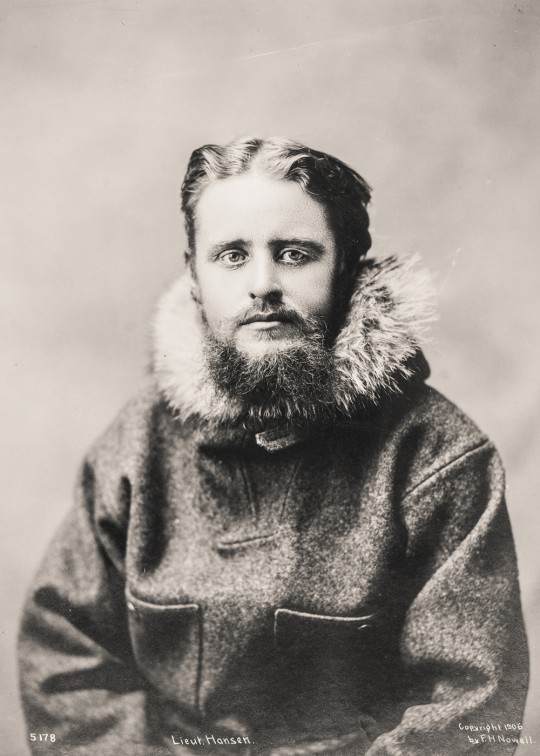 Godfred Hansen was born in Copenhagen on the 23 February 1876, son of royal counsellor Hans Nicolai Hansen and his wife Ovidia Hansen (born Rode). He married Johanne Ane Sophia Hansen (born Plum).
On the Gjøa expedition Hansen also operated as a meteorologist and measured the magnetism; he was navigator, astronomer, geologist, surgeon, electrician and photographer. He was also specialised in "dealing with the explosives". Hansen explored together with fellow crew member Peder Ristvedt the eastern part of Victoria Island and mapped this formerly unknown territory in 1905.
In 1919-20 Hansen led an expedition on the west coast of Greenland. This expedition was financed by the Norwegian state. Its aim was to lay out depots for Roald Amundsen and his expedition with the Maud, to be used on the expedition's return from crossing the North Pole area. However, the Maud never got into the current across the Arctic Ocean and the depots were never used. Hansen's story about this expedition was published as an appendix in Amundsen's book Nordostpassasjen.
In 1906 Hansen received the Danish Order of Merit, in 1919 he was made Knight of Dannebrog, and in 1933 Commodore of Dannebrog, second degree.
In 1911-12 Hansen was second-in-command on the schooner Ingolf in the West Indies, and for the next two years he was commander on an Icelandic post steamer. In 1915 he became commander of the torpedo boat Tumlaren, and in 1918 second-in-command on the coastal defence ship Peder Skram. He was made adjutant by the Danish King in 1919, and from 1923 he operated as commanding officer on several ships in the Danish navy.
On the cruiser Gejser he got badly hurt during a demonstration when a fog generator exploded in 1923. He also worked as a headmaster at the Naval Officer Academy and was in 1934 chairman in the Danish aviation company. From 1935 until his death, he was chairman of the board in the Danish naval officer union.
Godfred Hansen was buried in Copenhagen on 27 May 1937.