Explorers
Bjaaland, Olav Olavsen (1873-1961)
Bjaaland was a famous skier from Telemark and one of the four who reached the South Pole with Amundsen on 14 December 1911.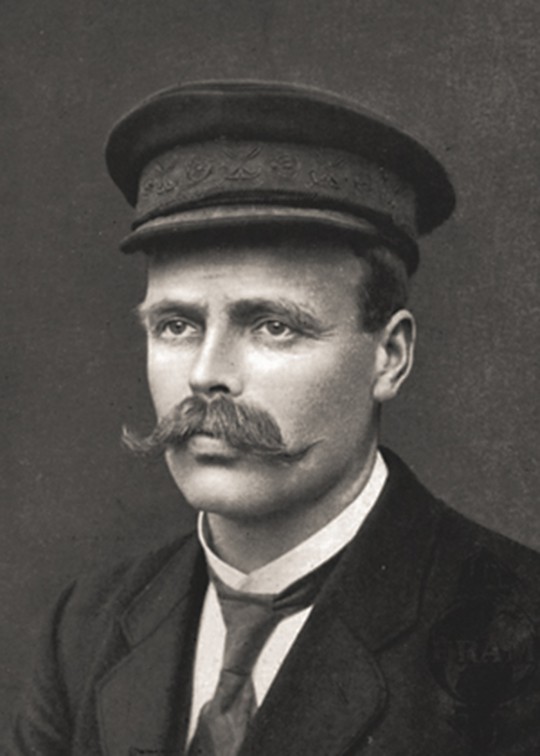 Olav Olavsen Bjaaland was born 5 March 1873 on the farm Søndre Bjaaland in Morgedal in the inland county of Telemark in southern Norway. His parents were Olav Olavsson Bjaaland (1831-93) and Gunhild (1846-1933). He married Aasne Djuve (1889-1953), but they had no children.
Olav Bjaaland was one of the best skiers in Norway around 1900. He joined Roald Amundsen's expedition to the South Pole in 1910, and was one of the five men to reach the Pole as the first ones in history. Olav is also known for having taken the famous South Pole picture of the Norwegians with the little tent. In fact it was Bjaaland who took most of the successful photographs from the expedition.
In Telemark, skiing has long traditions, and skis came to characterise Bjaaland's career. He was one of Norway's greatest sport skiers ever, both cross-country and jumping, also representing Norway abroad. He was one of the founders of Norway's Ski Federation in 1908. He was also a brilliant and self made ski maker, sat up a workshop in the wash-house at Søndre Bjaaland, and later founded Telemark Skifabrikk in Kviteseid.
At an early age, being the eldest of the children at the farm, he had to start working, and became soon both a lumberjack and a cattle dealer. Nevertheless, Morgedal was a place full of young people that really saw the pleasure of skiing and that truly appreciated to play in the snow in any idle moment of the day. His first pair of skis was given to him by Olav Bjønndalen when he was only three years old.
In 1902 he won the King's Cup at Holmenkollen in Oslo, and his collection of prizes and medals grew during his life to a truly impressive collection. He also received the Holmenkollen Medal in 1912.
In 1909, on his way to Chamonix in France to participate in a skiing competition organised by the Club Alpin Français, he met Roald Amundsen accidentally when captain Qvale introduced them to each other in the railway restaurant at Lübeck. Bjaaland impressed Amundsen with his home-made ski equipment and obvious skiing talent. Bjaaland was then invited on Amundsen's expedition to the North Pole (that later became the South Pole), and thereafter devoted his life entirely to skis and sledges.
In Antarctica, Bjaaland, with Jørgen Stubberud, built the prefabricated winter house Framheim and then spent the winter in a snow room working on the skis and sledges. Underway to the South Pole, Bjaaland had to drive a dog-sledge. When the Pole was reached and the number of dogs reduced, he was to his great satisfaction relieved of dog driving.
Back at home, as an old man, Bjaaland continued to run his own ski factory for many years. He also farmed and he still ski jumped until he was 70. He stayed at his farm Djuve for the whole last period of his life.
In 1915 he became one of the first authorised Norwegian skiing judges, and during the Winter Olympics in Oslo in 1952 he lit the Olympic flame in Morgedal. He was honoured for his career in many ways and he and Jørgen Stubberud were the last survivors of Amundsen's South Pole expedition. He had no children and the Olav Bjaaland Museum in Morgedal contains his memorabilia.
From 1958 up to his death in 1961, Bjaaland received a pension from the Norwegian government.
Amundsen gave a mountain in Antarctica his name: Mount Bjaaland.
Late in his life, Olav was asked if there was something he wanted to say to the young people of today. He answered: "Then I would say: Stop the chasing for records in sport! Skiing shall, as all other sports, strengthen your physique and your well being. Today an athlete is likely to force himself too much. It is all about seconds and millimetres. You carry on till you are dizzy... This is not what skiing is about."
Concerning Amundsen he said: "The time with Roald Amundsen is also something one never forgets. He was so full of good humour, it was not boring around him. If he just looked at you, you were in full gear. And even so he was so calm, level and reliable. He was a born leader. He demanded good order in everything and could be strict and stubborn. He was such that one both had respect for him and was fond of him". (Austbø, 1945)