Explorers
Lund, Anton (1864–1945)
Lund was first mate on the Gjøa 1903-06.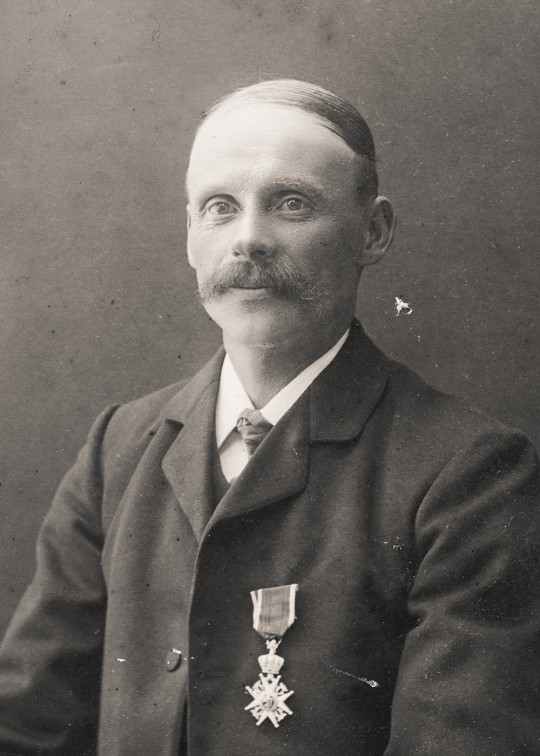 Anton Lund was born 13 February 1864 in Tromsø. His parents were Arnt and Sara Lund (b. Tøllefsen). At 12 years of age he went to sea for the first time, with the sloop Lykkens prøve north to Finnmark. Altogether he had 25 voyages to Arctic seas and he became an experienced skipper and harpooner. The ships he sailed with were the ketch Mathilde, the sloops Ingeborg and Tromsdalstinden, and the Svanen of Hammerfest. Tromdalstinden was wrecked by Bussesundet near Vardø during a storm.
For some years Lund was manager of Joh. Rye Holmboe's fish oil business in Tromsø before he in 1903-06 participated as 1st mate on Roald Amundsen's expedition with the Gjøa through the Northwest Passage. On return home he and the other crew members were made knights of St Olav's Order.
Lund was the first lighthouse keeper at Skalmen lighthouse in 1907-1912. He had with him a sledge dog from the Gjøa expedition and its tracks can be seen in the cement by the lighthouse. This is a coastal lighthouse which stands outside Smøla in Møre and Romsdal. In 1912 Lund moved to Ørsvaag lighthouse in Vågan county in Nordland. The lighthouse had been established 1 January 1862 and was a harbour lighthouse. It was closed down and replaced by a sector light in 1951. In 1918 Lund was moved to Nærøsund.
Lund married Marie (1862-1935) 4 June 1887 at Dyrø in Troms. They had three children; one of the sons went abroad as an engineer and a daughter moved to Stavanger. The other son had a career in the military. Anton and Marie are both buried in Harstad.