Explorers
Hansen, Ludvig Anton (1871-1955)
Hansen was born in Tromsø 16 April 1871 and was a crew member and tinsmith on Roald Amundsen's expedition with the Fram to the Antarctic 1910-12.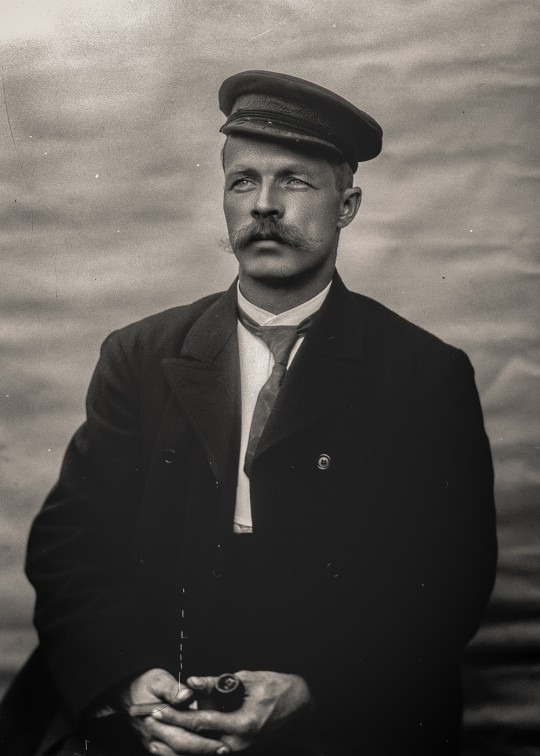 Ludvig Anton Hansen belonged to a family with Arctic traditions. His brother was Lars Hansen, known as an author of books concerning the Norwegian north-coast communities and Svalbard, and his wife was Laura Marie Zachariassen, the daughter of Søren Zachariassen, who brought the first commercial load of coal from Svalbard to Norway in 1899. His father was a master tinsmith.
From 17 years of age Hansen sailed in the Arctic, thereafter sailing abroad 1890-96 before returning to the Arctic. He apparently did military service on a sailing ship in the American navy in 1892-93. In 1898 he travelled as harpooner with Victor Emanuel's yacht Elena to Svalbard on the Prince's hunting and honeymoon trip. The following year he was on the Prince's yacht Taurus on a scientific expedition. He wintered 1905-06 in Advent Bay, Svalbard as interpreter and general worker for the American Arctic Coal Company.
On the recommendation of Amundsen's friend in Tromsø, Fritz Zapffe, Hansen was engaged to sail on Amundsen's Fram expedition, which originally was planned to go to the Arctic, but which went to the Antarctic instead. On the voyage south Hansen made, amongst other things, new fuel tanks for the cookers to be taken on the sledges as the existing ones were not strong enough – one of the very important details that Amundsen always was concerned with.
While Amundsen and his group wintered in Antarctica and sledged to the South Pole and back, the Fram sailed north to South America and then on an oceanographic cruise in the South Atlantic. Amundsen's group was fetched from the Bay of Whales in Antarctica at the end of January 1912.
After the Fram expedition, Hansen became a lighthouse keeper at Bakfjord lighthouse, Finnmark, in 1913-16 and then was from 1916-40 at Torsvåg lighthouse near Tromsø. In his last active years he was caretaker at the Norwegian Broadcasting (NRK) studio in Tromsø. He died in May 1955, 84 years old. Helmer Hanssen held a memorial speech about him on the local Tromsø radio.