Explorers
Beck, Andreas (1864-1914)
Beck was ice pilot on the Fram on Roald Amundsen's expedition to the Antarctic 1910-12. He died on board the Fram in 1914.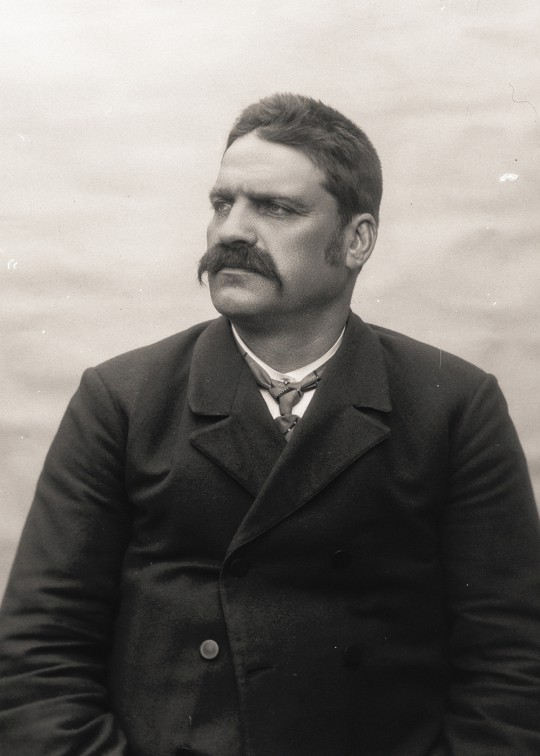 Andreas Beck was born 8 October 1864 in Balsfjord, north Norway in 1864. He was the son of a skipper and from 17 years of age he sailed in the Arctic seas north of Norway. In 1896 he himself was a skipper, before he sailed for several years as harpooner on various hunting ships. From 1903 he was part-owner of a sloop, selling his part in 1906. He then sailed on a coastal ship for a year before he in 1908 was ice pilot on a fishing smack which took a small Norwegian scientific expedition to Svalbard. This expedition was one of the first that led to the establishment of what is today's Norwegian Polar Institute. In 1909 Beck piloted another small geological expedition to Svalbard.
On 1 July 1909 Beck was awarded the King's Order of Merit.
It was thus not surprising that he was chosen to pilot the Fram, as the original plan was for her to sail to the Arctic. At the last minute Amundsen announced that they were sailing to the Antarctic instead. While Amundsen and his group wintered in the Antarctic and sledged to the South Pole, the Fram was used for oceanographic studies in the South Atlantic. Beck played the violin and could help with the entertainment on board.
After collecting the shore group, the Fram was sailed to Hobart, then to South America, where she waited, amongst other reasons, to be the first ship to sail through the new Panama Canal. This plan had to be given up as the completion of the Canal took too long, and on the voyage south towards Buenos Aires again Beck became ill and he died while the Fram was on the way to Montevideo 18 March 1914, He was buried at sea. It is not quite clear what the cause of death was - possibly a tropical illness ? He left a wife and 6 children.