Explorers
Nødtvedt, Jacob (1857-1918)
Nødtvedt was 2nd machinist on Otto Sverdrup's expedition with the Fram to northwest Greenland and the islands north of Canada 1898-1902, and again on the Fram when it transported Roald Amundsen's expedition to the Antarctic in 1910. On both expeditions Nødtvedt also functioned as blacksmith.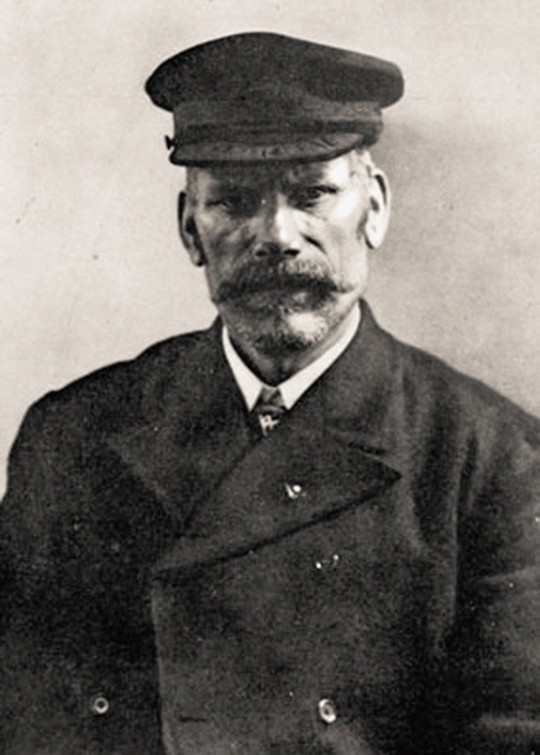 Jacob Nødtvedt was born 17 September 1857 in Manger, just north of Bergen.
During the four-year long second Fram expedition with Otto Sverdrup, Nødtvedt was not one of the group which went on long dog-sled trips to survey this previously unmapped area. He had enough to do onboard with blacksmith work: making, mending and improving equipment. He did, however, get out now and again to help, for example, to drive the mounds of fresh musk oxen meat back to the ship for the men and dogs.
During the voyage south in 1910 with Roald Amundsen, Nødtvedt made the knives, seal picks, sledge mountings, dog harness hooks, chains, etc. that were needed for the expedition to the South Pole. He had his smithy on the Fram's back deck, in addition to the work he had in the ship's engine room. Amundsen maintained – quite rightly – that it was a good thing that they did not just trust the equipment they had along, but tried it out and improved it where necessary. "If we are to win", he stated, "not a trouser button must be missing".
Nødtvedt left the Fram in Buenos Aires after the oceanographic voyage and traveled back to Norway with the oceanographer Kutschin. Rheumatism was stated as the reason for him to return home.